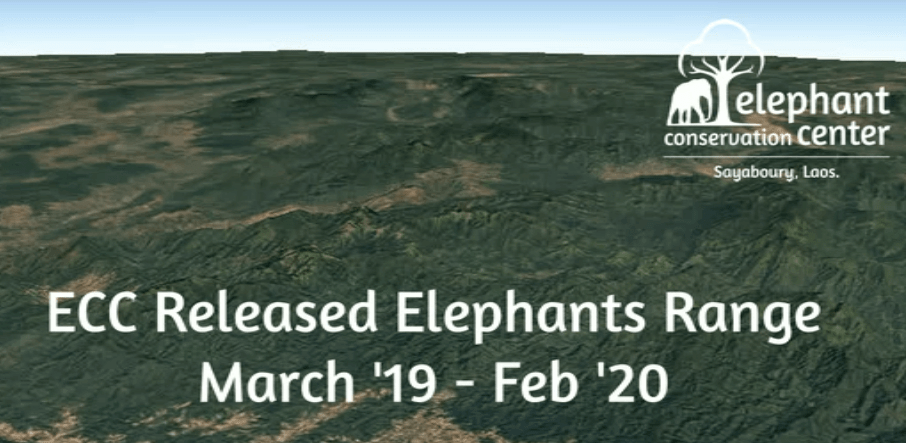 RELEASE ANNIVERSARY
An historical event
One year ago, the ECC made history in Laos by releasing 5 elephants into the wild. After a lengthy process aiming at creating a compatible elephant herd (a vital prerequisite), Elephants were eventually released into the wild on March, 18th, 2019 (click to know more). The elephants have been microchipped and their ex-mahouts keep track of their whereabouts using direct observation and GPS tracking during their patrols in the Nam Pouy National Protected Area. So far, this experiment has been highly successful and we are really proud of our team for offering these elephants a new life. Of course, this couldn't have been possible without your support!
From Slavery to Freedom
As a reminder, a group of 16 elephants was rescued from from an attempt to illegally smuggle them to a Zoo in the Middle-East in 2018. The Laotian Government took 12 of them to the ECC as a show of trust in our project. The ECC experts decided to include 5 of them in the 'Back to the Wild' programme past their herding period. Rewilding was possible thanks to an intense cooperation between ECC's Biology Department and ECC Mahouts whose knowledge proved essential in carrying out this experiment. Rewilding a group of elephants requires following social patterns found in the wild. The group we released consists of four adult female elephants and one male calf: Mae Khian, Mae Bounmy Nyai, Mae Ma, Mae Noy and Do Khoun Meuang. The animation below shows the evolution of the herd's range, month by month. In July, our Ranger Team had to move the base camp due to a difficult access preventing the progress of the patrols. Over the last 12 months, the rangers patrolled 19,500Ha of forest to track the group of 5 which has so far been in contact with a group of wild elephants inhabiting the Protected Area!
Keep connected to our blog. A big announcement is coming…
---
Music: Cyril Paquignon