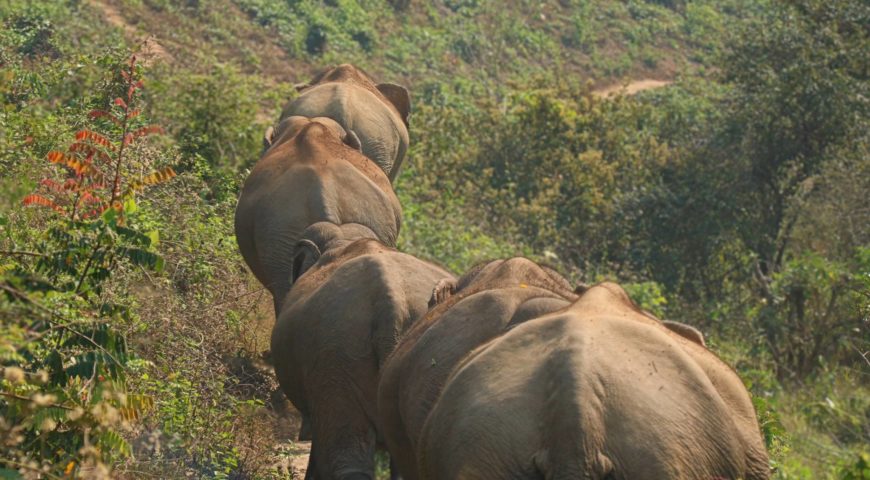 The story of our elephants return to the wild begins today!
We are now in the first stages of testing our herding process!
Four adult females and a male calf left the Center March 5th and are currently walking to Thongmixay, the southern region of the NPNPA, in order to attempt a soft release. These elephants have only been together for a few months, and are nowhere near ready for a real release. There is also much work still to be done in the protection of the park before real releas
es are attempted. This soft release is simply a stage in exploratory data collection to test the strength of an unrelated herd outside of our concession, how data collection will work in such thick jungle, and to better understand the traditional knowledge of the mahouts.
Releasing elephants is a complex project, not just for the elephants, but the communities surrounding them as well. To ensure that we do not cause more harm than good in this endeavor, the ECC is taking steps to test the process and capability of the elephants along the way. Over the next year, we will be studying the wild populations and better documenting population demographics and carrying capacity of Nam Pouy National Protected Area (NPNPA). At the same time, we are working to create strong herds at our center.
Nothing we are attempting is new or revolutionary, but instead an experiment to give scientific backing to the way in which mahouts have always treated elephants here in Laos. They would leave their elephants for months in the forest and come to see them every few weeks when there was no work to do. The only new aspect of this type of care is that we are doing it within a group. The elephants will enter the forest on March 17th! We will post updates on Facebook and stories on our Instagram so you can follow us on this journey!