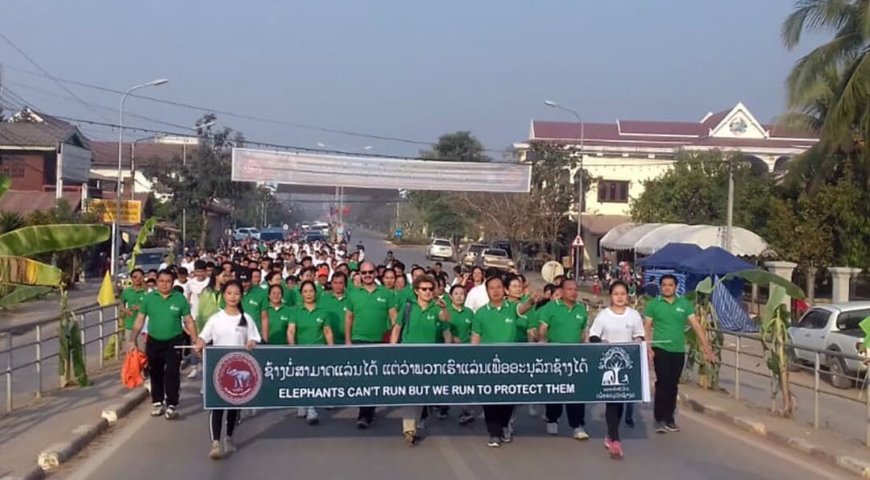 ELEPHANT FESTIVAL
SAYABOURY
21-28 January 2020
On 23rd February 2020, the ECC and the Sayaboury Province jointly organised 3 educational and sport events the day after the opening of the Elephant Festival. It started with a run throughout the city involving over 400 children wearing our "We Run for Elephants" t-shirt followed by our traditional Elephant Buffet. A table filled with fresh fruits was offered both to participating elephants and guests to highlight the fact that both human and elephants partly share the same diet!
As expected, the elephants polished off their "plates" much faster than their human counterparts! Finally, the ECC took local students to their 'Environmental Education' space where 18 educational panels on elephants were on display. Participants had the opportunity to paint life-sized elephant statues using traditional designs while others followed the theme "Elephants: An Umbrella Species", for example painting butterfly or tiger designs on the statues. Results were really inspiring and we will soon post them on our page. Stay tuned for some amazing artwork!
Caption: French Ambassador to Laos Florence Jeanblanc-Risler, Sayaboury Vice-Governors Mrs.Bounpack Inthapanya and Mr.Naniong Sipaseuth, ECC staff members and 400 children run for elephants.